It's recipe time! This one is easy and delicious.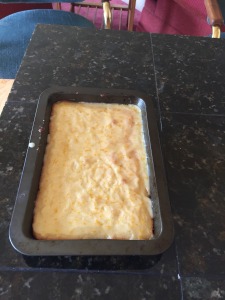 Glazed Orange Brownies
A Paula Deen recipe, with modifications (in parentheses) that cut down on the sugar and fat
Ingredients
Brownies:
2 cups sugar (I use 1)
1 1/2 cups all-purpose flour
1 teaspoon salt
1 cup butter, softened (I use 1 stick instead)
4 large eggs (I use 2 instead)
2 teaspoons orange extract
2 teaspoons orange zest, divided (1 for the batter and 1 for the glaze)
Glaze:
1 cup confectioner's sugar
2 tablespoons orange juice, fresh
Directions:
1. Preheat oven to 350°. Spray a 13×9-inch pan with nonstick cooking spray. (This pan is too big! I use a smaller one.)
2. In a large bowl, stir together sugar, flour, and salt. Add butter, eggs, extract, and 1 teaspoon zest, and beat with a mixer at medium speed until well blended. Pour batter into prepared pan.
3. Bake for 30 minutes or until light golden brown and set. Remove from oven, and pierce cake all over with a fork.
4. In a small bowl, combine confectioners sugar, orange juice, and remaining teaspoon zest until smooth. Pour over warm cake. Let cool completely before cutting into squares.
Enjoy!
Until next time,
Ann
Connect with me on


Follow me on


Sign up for my newsletter:


Stop by my website: www.annroth.net