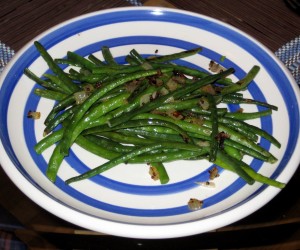 Fourth of July will soon be here, and I wanted to share my new favorite green bean salad recipe. This is so easy and delicious, and pretty too!  Make several days ahead if desired, and store in refrigerator. Great served at room temperature, but cold is okay, too.
Green Beans with Red Onions and Olives
Dressing:
1/2 cup minced red onion
3 teaspoons balsamic or red-wine vinegar
3/8 teaspoon salt, or to taste
1 1/2 tablespoon olive oil
Additional Ingredients:
1 1/2-2 pounds fresh green beans, washed and cut in half (or frozen–but the whole bean kind if possible).
7-10 black or Kalamata olives (how many and what kind depends on your tastes, but I prefer Kalamata), pitted and chopped into about 8 pieces/olive
In a bowl, stir together dressing ingredients. Let sit while you cook the beans and chop the olives.
Steam beans until just tender. Don't overcook! Pour on dressing while the beans are still hot. Stir in olives, mixing well. Cool to room temperature.
Enjoy!
Until Wednesday, and happy cooking!
Ann