Years ago I dreamed of starting my own food company.  I would create and sell hot fudge sauce.  Can you imagine?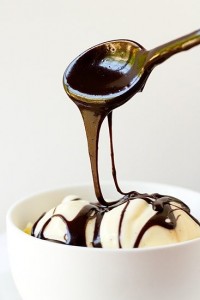 I attended classes in food manufacturing, creating logos and labels, and other practical aspects of the business.  At the same time, I worked feverishly on just the right recipe.  At first that was great fun–all that hot fudge sauce to sample, tweak and sample again. My husband and kids enjoyed it too, as did their friends, who willingly tasted and offered feedback.
Believe it or not, after six months of daily taste-testing, I all but lost my taste for the stuff.  Very sad!  Then I discovered writing romance and traded my interest in bottling my hot fudge sauce for my passion in crafting stories.  A whole lot less fattening!
Within a year or so, my taste for hot fudge sauce returned. I made a batch, of course, and enjoyed every spoonful.
My brother tweaked the original recipe and created a winner.  If I had started that food business, this hot fudge sauce would've been my flagship recipe.
Ann's Hot Fudge Sauce
1 cup whole milk
1 Tbsp Karo syrup (light, not dark)
3/4 cup sugar
4 squares unsweetened chocolate
1 tsp vanilla
In a heavy saucepan, mix milk, sugar, and Karo.  Bring to a low boil and let boil 14 minutes.  Remove from heat.  Beat in unsweetened chocolate until melted; add vanilla.
Store in the refrigerator–if there's any left!
Especially good on ice cream or angel food cake. Or just dip in a spoon and indulge.
Enjoy!!
P.S. Makes a fabulous sweet treat for you special Valentine.