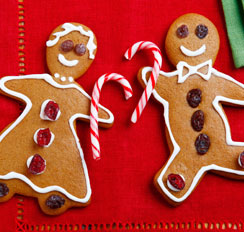 Over the years I've tried many gingerbread cookie recipes, but this one has become the all-time favorite. It comes from Jann Johnson's The Art of the Cookie, and is outstanding.
I can't tell you exactly how many cookies the recipe makes–that depends on the size of your cookie cutters. At our house, we usually end up with several dozen.
Gingerbread Cookies
Note: The dough will need to be chilled for at least one hour before using
1/2 tsp each salt and baking soda
2 tsp ground ginger
2 tsp ground cinnamon
1/2 tsp ground cardamom (optional, but I use it every time)
1/2 tsp ground cloves
3 1/4 cup flour (I use unbleached)
3/4 cup butter (1 1/2 stick butter), softened
3/4 cup sugar
3/4 cup unsulfured molasses
1/4 cup water
In a medium bowl, whisk salt, baking soda, ginger, cinnamon, cardamom, cloves and flour; set aside. In a large bowl with the mixer at medium speed, cream butter and sugar until fluffy. Stir in molasses and water; mixture will look curdled. On low speed, gradually add the flour mixture to the butter mixture, mixing well. Divide dough in half and shape each into a flattened ball. Wrap in plastic wrap and chill 1 hour or overnight. Dough may be frozen at this point, but it must be thawed completely before using.
Preheat oven to 350 degrees. Lightly grease baking sheets. (I use Silpat.) On lightly floured surface, with a lightly floured rolling pin, roll out one half of the dough 1/4 inch thick. Lift dough occasionally to prevent sticking. Lightly reflour the work surface and rolling pin as needed.
Cut out the cookies and decorate. Place on cookie sheets. They spread so leave space between them. Bake in the center of the oven 12-15 minutes, or until set. Let them cool.
Cooled cookies may be frozen… If you have any left!
If you make anything gingerbread, email to me at ann@annroth.net and I'll post your photos here.
Until next time,
Ann