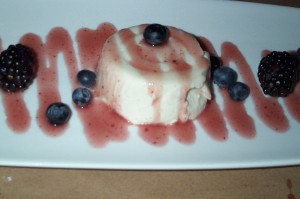 Last weekend I listened to The Splendid Table on NPR http://www.splendidtable.org/, the show for people who love to eat. I love this show but don't get much chance to listen to it.
The host, Lynne Rossetto Kasper, gave a recipe for panna cotta. Naturally I had to try it. I have never been a fan of the stuff served in restaurants, but Lynne's recipe is very good. And easy to make.
Warning: This stuff is killer rich, made mostly of cream and sour cream, with sugar and gelatin tossed in. I made a wine sauce to go with it. What can I say except that my arteries are now clogged… LOL! But I had to test it out, to see how it tastes. Now I'll be able to serve it at our Winter Solstice party in a few weeks.
Here is the recipe. Give yourself a good 24 hours to make it and let it set, in the fridge so that it has a chance to firm up.
Ingredients
1 1/2 teaspoons unflavored gelatin (use the entire packet instead)
2 tablespoons cold water
3 cups heavy whipping cream
1/2 cup (3 1/2 ounces) sugar, or more to taste
Pinch of salt
1 1/2 teaspoons vanilla extract
1 cup (8-ounce container) sour cream
1. Sprinkle the gelatin over the cold water. Let stand for 5 minutes. In a 3-quart saucepan, warm the cream with the sugar, salt, and vanilla over medium-high heat. Do not let it boil. Stir in the gelatin until thoroughly dissolved. Take the cream off the heat and cool about 5 minutes.
2. Put the sour cream in a medium bowl. Gently whisk in the warm cream a little at a time until smooth. Taste for sweetness. It may need another teaspoon of sugar. Rinse 8 2/3 -cup ramekins, custard cups, or coffee cups with cold water. Fill each one three-quarters full with the cream. Chill 4 to 24 hours. For a very pretty and tasty treat, layer the panna cotta with this wine "filling":
Wine "Filling" :
1 1/2 cup red wine
1 cinnamon stick
1 whole allspice
1/2 tsp vanilla
1/4 cup sugar
1 packet gelatin dissolved in 2 tablespoons cold water
Bring wine, sugar and spices to a boil. Boil 3 minutes.  Remove from heat and taste for sweetness; add more sugar if needed. Remove cinnamon and allspice. While still hot, whisk about 1/4 cup of the wine with the gelatin; when incorporated, add this to the rest of the wine. Whisk until smooth and there are no lumps.
Let cool thoroughly. If you have the time and patience, grab a pretty glass bowl and layer with the panna cotta. Here's how to do that: Spoon about 1/2 of the panna cotta in the glass bowl. Chill until firm, about 4 hours. Without disturbing the panna cotta, gently add a new layer of 1/2 of the thickened wine . Chill 4 hours. Repeat, ending with a layer of the wine.
By the way, the photo above isn't mine. I didn't know that I needed to let everything set for such a long time, and mine turned out… not so pretty, but yummy all the same.
If you try it, let me know how it turns out.
Enjoy!
Until next time,
Ann