Another Great  September Recipe: Glazed Orange Coconut Cake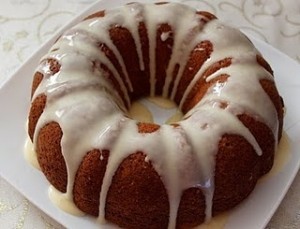 This recipe is freaking delicious!! Try it, you'll love it… and so will the lucky people who get to enjoy it with you.
(Recipe courtesy of Global Table Adventure…. With a few tweaks by me. 🙂 )
Cake:
2 1/2 cups all-purpose flour
1 1/2 cups granulated sugar
3/4 cup finely shredded, unsweetened coconut
2 teaspoons baking powder
2 teaspoons baking soda
1/2 teaspoon salt
1 cup coconut milk
1/2 cup vegetable oil
2 eggs
1 teaspoon vanilla
1 cup fresh orange juice (2-3 oranges)
1 tablespoon finely grated orange rind
2 cups mini semi-sweet chocolate chips (my addition)
Orange glaze: (revamped by me)
Make after cake has completely cooled. Whisk together until smooth:
1 cup powdered sugar
2 Tbs milk
1 ½ tsp orange oil (found in special food stores)–or you could try 1 Tbs orange juice and cut the milk to 1 ½ Tbs. However, I prefer the pure orange oil.
1 Tbs light corn syrup
Instructions:
Preheat oven to 350F. Grease and flour a bundt pan.
In a mixing bowl, combine flour and next five ingredients (flour through salt).
In a small bowl, combine coconut milk, oil, eggs, vanilla, and orange juice and rind. Slowly add to dry ingredients and mix on medium speed until smooth. Pour into prepared bundt pan.
Bake 35 to 40 minutes, until a toothpick inserted in the center comes out clean. Let cool completely before removing from pan. If you don't, it might break!
The chocolate chips will settle at the bottom, which becomes the top of the cake when you put the cake on a plate.
With a knife, add glaze to completely cooled cake, letting it run down the sides .
Happy Eating!
Ann