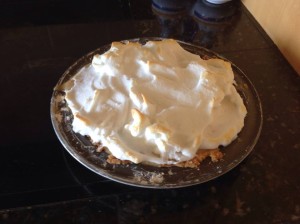 Every time I look at this photo of this butterscotch pie I made, my mouth waters. This recipe calls for real Scotch. The alcohol cooks out and leaves a rich, nuanced taste that skyrockets this particular pie into food heaven. 🙂
It looks hard, but I promise you, it isn't.
Butterscotch Pie
One 9-inch baked pie crust (recipe at the end… or use your own)
Filling:
2 cups 2% milk
1 1/2 cups half and half (you could probably substitute whole milk to cut down on the richness)
6 Tbsp unsalted butter
1 1/4 cups light brown sugar, packed
3 egg yolks (save the whites for the meringue top)
1/4 cup cornstarch
1/4 tsp salt
2 Tbsp Scotch whiskey
1 1/2 tsp vanilla
Meringue top:
3 egg whites
pinch salt
2 Tbsp sugar
In a large saucepan, combine milk and half and half and bring to a simmer over medium heat. Turn off heat and set aside.
In a large, heavy skillet, melt butter over medium-high heat. Stir in brown sugar and cook 5-7 minutes, stirring constantly, to caramelize the mixture. (You will smell a characteristic nutty-caramel flavor odor when the butter browns, signaling that the mixture is ready.)
Whisking constantly, gradually add the brown sugar mixture to the hot milk mixture. If mixture is not smooth, blend for 20 seconds with a hand mixer or pour through a fine sieve.
Put the egg yolks in a medium bowl. Whisk in about 1/2 cup of the hot milk mixture. Whisk in cornstarch and salt until dissolved. Whisk the cornstarch mixture back into the hot milk mixture in the saucepan. Add the Scotch and whisk in.
Whisking constantly, cook over medium-high heat until thick and just boiling. When the mixture thickens, the whisk will leave trail marks on the bottom of the pot and the mixture will have a few large bubbles boiling up to the top.
Remove from heat and whisk in the vanilla extract. Pour into the pre-baked pie shell and cover with meringue. Then chill at least two hours or overnight.
Meringue:
Preheat oven to 400 degrees.
Whip whites and salt to soft peaks, then add sugar and whip until sugar is dissolved and whites are glossy. Spread meringue on top of the slightly cooled pie and bake for five minutes or until lightly browned. Chill as above.
Crust (made in a food processor):
Makes enough for bottom and top or two bottoms
2 cups flour
3/4 cup butter, straight from the refrigerator and quickly cut into chunks
1/4 cup shortening (I use the white Crisco)
6 or more Tbsp ice water
Put flour into food processor fitted with a metal blade. Add butter and shortening and pulse a little at a time until mixture is crumbly and about the size of peas. Don't over mix. Add water one Tbsp at a time, pulsing briefly with each addition. As soon as the mixture forms a ball, stop (you may need more or less than 6 Tbsp water).
Wrap in wax paper and refrigerate 30 minutes. Divide dough in half and roll half to fit a 9-inch pie pan. Place in pan. Bake at 425 degrees until golden brown. Roll out the other half, put in pan, wrap in freezer paper or freezer bag and freeze unbaked for later.
Until Monday, and wishing you a pie-filled weekend,
Ann
Visit me at my Facebook Author page https://www.facebook.com/AnnRothAuthorPage
Follow me on Twitter @Ann_Roth
Stop by my website: www.annroth.net