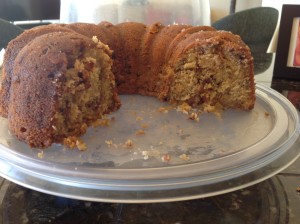 Brown Sugar Caramel Pound Cake
This cake is soooo tasty that I had to share. Maybe you'll make it this weekend.
Brown Sugar Caramel Pound Cake
Ingredients:
1 ½ cups butter softened  (I used 1 cup instead)
2 cups light brown sugar, packed  (a bit too sweet, and I recommend cutting to 1 ½ cups)
1 cup granulated sugar (you may want to cut this, too, to ¾ cup)
5 large eggs
3 cups all-purpose flour
1 teaspoon baking powder
½ teaspoon salt (if you use unsalted butter, add ¼ tsp salt per cube of unsweetened butter)
1 tsp vanilla
1 cup whole milk
1 1/2 tsp vanilla
1 8oz bag toffee chips
1 cup pecans, chopped
Directions:
Preheat oven to 325
Grease and flour a 12 cup Bundt pan.
Beat butter until creamy. Add sugars, beating until fluffy. Add eggs one at a time. Add vanilla.
In medium bowl combine flour, baking powder and salt. Add flour mix to batter alternately with milk and vanilla, beat until just combined. Stir in toffee buts and pecans. Spoon batter into pan.
Bake 85 minutes or until wooden pick comes out clean. (Mine was done in about 77 minutes.) To prevent excess browning, cover cake with foil while baking. (For the first 50 minutes or so, I covered with foil, with slits in it to let out steam. Then I took off the foil.)
Let cake cool in pan for 10 minutes. Remove from pan, and let cool for 15-30 minutes on a wire rack. While it cools, make caramel sauce. (Or buy your favorite caramel topping and use that.) I used a recipe from Barefoot Contessa, below.
With a chopstick of some other stick, poke holes in the cake. Spoon Caramel Sauce over hot cake, letting it seep into the holes.
Barefoot Contessa Caramel Sauce: (for this cake, I halved the recipe)
1 1/2 cups sugar
1/3 cup water
1 1/4 cups heavy cream (I substituted whole milk, which makes this a runnier sauce–perfect for this cake)
1/2 teaspoon pure vanilla extract
Mix the water and sugar in a medium heavy-bottomed saucepan. Cook over low heat for 5 to 10 minutes, until the sugar dissolves. Do not stir. Increase the heat to medium and boil uncovered until the sugar turns a warm chestnut brown (about 350 degrees F on a candy thermometer), about 5-9 minutes, gently swirling the pan to stir the mixture. Be careful – the mixture is extremely hot! Watch the mixture very carefully at the end, as it will go from caramel to burnt very quickly. Turn off the heat. Stand back to avoid splattering and slowly add the cream and vanilla. Don't worry – the cream will bubble violently and the caramel will solidify.
Simmer over low heat, stirring constantly, until the caramel dissolves and the sauce is smooth, about 2 minutes. The Barefoot Contessa suggests letting this sauce cool to room temperature, at least 4 hours, but I let it cool for about 10 minutes and used it!
Until Monday, and wishing you Happy Cake Eating,
Ann
Visit me at my Facebook Author page https://www.facebook.com/AnnRothAuthorPage
Follow me on Twitter @Ann_Roth
Stop by my website: www.annroth.net