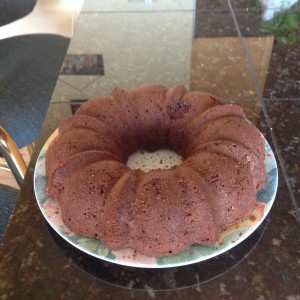 Years ago, I cut this recipe out of our now-defunct, and dearly missed daily morning pager, the Seattle Post-Intelligencer (http://www.seattlepi.com/). The paper has since moved online, but I really liked reading the hard copy over breakfast and coffee. Anyway… I finally got around to trying this recipe. Wow. Scrumptious, and rich, with a lovely, fudgy center.  The directions are a bit wonky in places (I mean, if the mixing bowl doesn't feel cool, stop mixing and place in the freezer for 5 minutes? Give me a break!) , so I made a few changes.
Note: the amount of sugar in this thing is staggering. I worried that it would taste too sweet. But it came out just right. I will definitely make this one again.
Tunnel of Fudge Cake
Adapted from a recipe by Shirley O. Corriher
Preheat oven to 350 degrees. Generously grease a Bundt pan.
1 cup softened butter (original recipe called for more, but 1 cup is enough!)
3/4 cup brown sugar, packed
1 cup white sugar
1 tsp vanilla
1/3 c vegetable oil
2 egg yolks
4 whole eggs
2 cups confectioners sugar (I used scant cups)
2 1/4 cup all purpose, unbleached flour (I avoid the bleached stuff–who wants to ingest anything that has been bleached?)
1/2 tsp salt
3/4 cup cocoa powder
In a bowl, mix together flour, and salt; set aside.
In mixer, cream butter and sugar and beat until airy. Add eggs and yolks and mix for about 20 seconds. Add vanilla and oil. Mix for about 30 seconds; add flour mixture. Mix until incorporated; add confectioners sugar and cocoa powder.  When incorporated, pour into prepared Bundt pan. Bake about 38-45 minutes. Note: Because of the gooey center, there is no way to insert a toothpick to see if done. I have a convection oven, and baked for 38 minutes.
Place on a wire rack and let cool in the pan for 30 minutes. Then gently press on the top with the palm of your hand to eliminate the air pocket that formed while baking. Cool in the pan for 2-3 hours; then invert pan onto a serving platter to finish cooling. Or serve warm.
Until next time, and droolingly yours,
Ann
Connect with me on my Facebook Author page https://www.facebook.com/AnnRothAuthorPage
Follow me on Twitter @Ann_Roth
Stop by my website: www.annroth.net