This Giant Fudge-Filled Cookie is easy and delicious–perfect for Valentine's Day!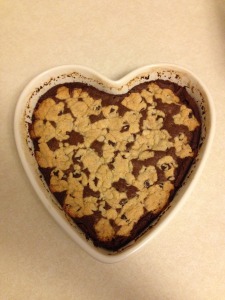 Giant Fudge-Filled Cookie
Preheat oven to 375 degrees
Flour and grease a large heart pan or a 9 x 12 pan
Filling:
12 ounces chocolate chips
8 ounces cream cheese cut into chunks
2/3 cup evaporated milk
Cookie:
1- 1/2 cup sugar
1/2 cup butter
3 cups flour
1 tsp baking powder
1/2 tsp salt
2 eggs
1/2 tsp vanilla
Directions:
Filling: In the top of a double boiler, melt chocolate chips, cream cheese and milk.  Set aside to cool slightly and make cookie dough.
Cookie: In electric mixer, cream together sugar, butter. Add eggs, mix well. Add flour, salt and baking powder and vanilla, mix well. Divide dough in half. Spread half of dough evenly over bottom of pan. Spread chocolate mixture over dough. Dollop spoonfuls of remaining dough on top, pressing lightly.
Bake approximately 30 minutes or until done. When cooled, remove from pan. Serve at room temperature.
Yum!
Until next time,
Ann
Connect with me on Facebook:  https://www.facebook.com/AnnRothAuthorPage
Follow me on Twitter: https://twitter.com/ann_roth
Stop by my website: www.annroth.net
Sign up for my newsletter: http://bit.ly/1zgiKfG