If you like pumpkin and chocolate, these cookies are for you. I made a batch recently and oh! Are they yummy.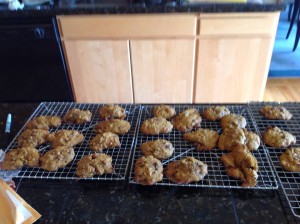 Pumpkin Oatmeal Chocolate Chip Cookies
(Original recipe found at www.lovebakesgoodcakes.com)
Note: I tweaked the original recipe a bit. The recipe below incorporates my changes.
Yield: about 5 dozen
Ingredients
3/4 cup (1 1/2 sticks) butter, softened
1 cup brown sugar, packed
1 cup sugar
1 can (15 oz.) pumpkin puree (NOT pumpkin pie filling)
1 egg
1 tsp. vanilla extract
2 cups all-purpose flour
1 cup quick-cooking oats
2 tsp. cinnamon
1 tsp. baking soda
1/2 tsp. baking powder
1 tsp. salt
2 cups chocolate chips
Instructions
Preheat oven to 375°F. Line baking sheets with parchment paper (I used Silpat) and set aside.
In a large bowl, beat the butter, brown sugar and sugar until creamy. Add the pumpkin, egg and vanilla; beat until smooth and well combined.
In a separate bowl, combine the flour, oats, cinnamon, baking soda, baking powder and salt. Mix into the pumpkin mixture. Fold the chocolate chips into the dough. Using a cookie scoop, drop dough onto the baking sheets, spacing about 2 inches apart.
Bake for 10-12 minutes or until the edges just begin to brown. Allow to cool on the pan for 3 minutes before removing to a cooling rack to cool completely.
Store leftover cookies in a covered container.
Until Monday, and Droolingly Yours,
Ann
Connect with me on my Facebook Author page https://www.facebook.com/AnnRothAuthorPage
Follow me on Twitter @Ann_Roth
Stop by my website: www.annroth.net