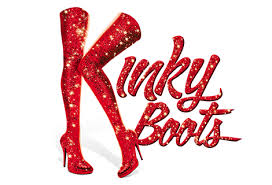 Recently, I went to this show. I was eager to see it, but not sure what to expect. Would I be let down? Disappointed?
Not a chance. Kinky Boots is based loosely on a true story, or so say the PR folks. True or not, this is a can-do, be yourself tale about accepting who you are and changing the world, just a little.
This is a feel-good musical–toe-tapping music, terrific dancing, a story that made me laugh and now and then, shed a tear.  The tremendous enthusiasm and energy from a talented cast was contagious, and I came away smiling.
You can't ask for more than that. If you ever get a chance to see it, do. 🙂
Until Friday, and wishing you unexpected energy and happiness,
Ann
Connect with me on my Facebook Author page https://www.facebook.com/AnnRothAuthorPage
Follow me on Twitter @Ann_Roth
Stop by my website: www.annroth.net