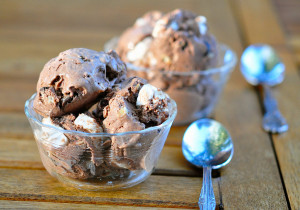 Is there anything better than a bowl or cone of your favorite ice cream on a hot summer night?
For fun, I wanted to make my own, but nothing too challenging. Years ago, I found this yummy concoction in my local newspaper. It's easy to make–you don't need an ice cream maker or any fancy gadgets.
Warning: It's rich as sin. 🙂
Note: This stuff requires an overnight rest in the freezer, so plan to make it a day in advance.
Rocky Road Ice Cream
serves 8-10, depending on the portion served
1 can (14-oz) sweetened, condensed milk
1/2 cup chocolate syrup (I use the good-quality stuff that comes in a  jar, but any kind will do)
2 cups heavy cream
1 cup mini-marshmallows
1/2 cup mini chocolate chips
1/2 cup salted peanuts
Stir the sweetened, condensed milk and chocolate syrup together until well mixed. Whip the heavy cream to stiff peaks. Fold into the chocolate mixture. Add marshmallows, chocolate chips,and peanuts. Store in an airtight container, and freeze overnight.
Will keep up to two weeks–but I'm betting it won't last that long. 🙂
Happy Ice Creaming, and until Monday,
Ann
Visit me at my Facebook Author page https://www.facebook.com/AnnRothAuthorPage
Follow me on Twitter @Ann_Roth
Stop by my website: www.annroth.net