I used to hate when the bananas at my house got a little too ripe. Then I discovered this mouth-watering cookie recipe. With bananas, chocolate chips, coconut and macadamia nuts, how can you go wrong?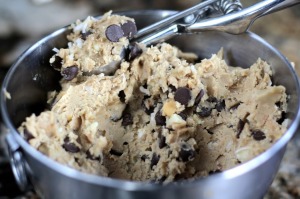 Jumbo Island Cookies
Ingredients
1 2/3 cup flour
3/4 tsp baking powder
1/2 tsp baking soda
1/2 tsp salt
1/4 tsp nutmeg
6 Tbsp butter at room temperature
3/4 cup packed brown sugar
1 cup mashed banana
1 large egg
1 tsp vanilla
2 cups chocolate chips
1 cup flaked coconut
1/4 cup chopped macadamia nuts
Preheat oven to 350 degrees
Directions
Sift together flour, baking power, baking soda, salt and nutmeg; set aside.  Using a mixer at high speed, beat butter for 2 minutes.  Add sugar and mashed banana.  Beat for 3 minutes.  Beat in egg and vanilla.  Turn speed to low and add flour mixture.  When incorporated, turn off mixer.  Stir in chocolate chips, coconut, and macadamia nuts.
Using an ice cream scoop (coat with oil so this gooey batter doesn't stick), drop onto a greased cookie sheet (I use Silpat instead).  Bake 10-12 minutes at 350 degrees, until lightly golden.  Let cool 1-2 minutes, then transfer to wire racks.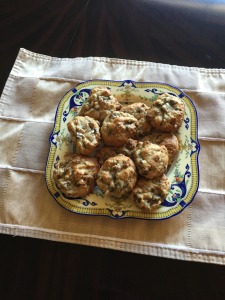 These won't last long enough to store, but if you must, use an airtight container.
Until next time,
Ann
Connect with me on



Follow me on


Sign up for my newsletter:


Stop by my website: www.annroth.net