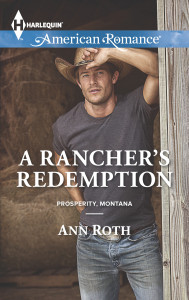 In less than a month, A Rancher's Redemption will be out. I loved writing this book and I really, really like this cover. Sexy cowboy, huh? And once you get to know him, he's even more attractive. 🙂
Which brings me to pre-ordering. To pre-order, stop by www.annroth.net. Right there on the home page, you'll see the links to do that.
For a chance to win a free book, stop by https://annroth.net/ and enter the monthly contest. And don't forget to sign up for my newsletter, with a sneak preview of this book and later on, sneaks to other upcoming books.
Until Monday, and wishing you a fabulishous weekend,
Ann
Visit me at my Facebook Author page https://www.facebook.com/AnnRothAuthorPage
Follow me on Twitter @Ann_Roth
Stop by my website: www.annroth.net