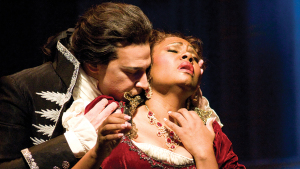 Tonight I'm headed for the Seattle Opera, to see Tosca, one of my all-time favorite operas.
I wasn't always an opera lover, although my mother was. She studied voice in college, but didn't have a strong enough voice to make it as a singer. Saturdays, she listened to the Metropolitan Opera on the radio. Sometimes she cajoled me into listening, too. But I never appreciated it.
As an adult, I attended a few operas with my husband, who was equally non-wowed. Then, a good 15 years ago, I found out that one of my writing friends was crazy for opera. At her urging, my husband and I joined her and a few other friends for monthly "opera night." An evening we now look eagerly forward to. We take turns hosting these nights, which include a DVD of an opera and the synopsis which is read before each act, plus a main course provided by the host, with the appetizers, drinks, salad and dessert contributed by the other members of the group.
During the performance, we often pause the action in order to get seconds on food and drink, laugh, answer questions, discuss the intricacies of the story and plot, learn about the composer or the conductor, and so on.
I have become a true opera fan. The beautiful music, exquisite voices! Between the melodrama, hatred, true love, passion, loyalty, betrayal, murder, heroism, tears and laughter, what's not to love? It's all the stuff of drama, fiction and reality. The stuff of life.
Until next time,
Ann
Connect with me on Facebook:  https://www.facebook.com/AnnRothAuthorPage
Follow me on Twitter: https://twitter.com/ann_roth
Stop by my website: www.annroth.net
Sign up for my newsletter: http://bit.ly/1zgiKfG