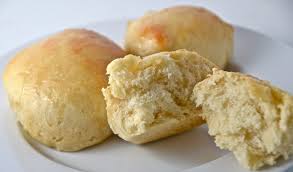 This month I am sharing some of my favorite Thanksgiving recipes.
These delicious rolls contributed to many happy meals in my family.  They're great any time of the year, but I always  make them for Thanksgiving. So  did my mom and my grandma. They are light and fluffy, and no kneading required! The secret is to handle them as little as possible. Over-handling makes the dough tough, and who wants that?
The rolls are excellent straight from the oven, but they're also great reheated the next day.  I like to slather butter and jam or honey on mine.  Or stick a slab of leftover turkey in the middle.  Or dunk a warm roll in coffee and enjoy with eggs, bacon or sausage.  Or…the list is endless.  If you decide to make bread instead of the rolls (see below), the bread goes especially well with beef stew and soups.
This recipe feeds about 20 guests. Halve it if you want– or make it all and freeze for later use.
1/2 cup sugar
2 tsp salt
3 heaping Tbs Crisco
Add these ingredients to a large bowl. Add 1 1/2 cup boiling water and stir to dissolve Crisco. Set aside to cool.
While mixture cools, in a small bowl combine 2 packages yeast with 1/2 cup tepid water; stir to dissolve. When Crisco mixture has cooled to tepid, add yeast, 2 beaten eggs and 7 cups flour. No need to knead this, just mix with a spoon (will be very gooey). Cover with a damp cloth, set in a warmish place, and let rise for 2 hours.
Flour a surface, turn out dough and roll to 1/'2 inch thick. Don't over-roll!. Cut out rolls. I use a round cookie cutter, but a glass dipped in flour works well, too. Use a dinner knife to crease each roll,  then fold over and pinch the edges together. Set on greased cookie sheets. Let rise 1 hour. Bake at 425 degrees for approximately 10 minutes, until golden brown.
For the bread:
After the letting the dough rise 2 hours, turn out onto floured surface and knead two-three times. Divide in half, roll into balls and place each ball into a greased bread pan. Let rise 1 hour. Bake at 350 degrees for 30 minutes.
Enjoy! And if you try these, let me know how you liked them.
Until next time,
Ann