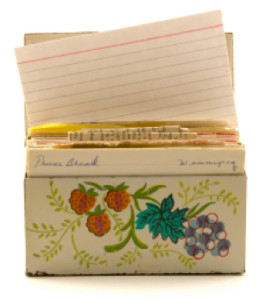 This month I'm sharing some of my family's favorite Thanksgiving recipes. The box pictured above isn't one of mine. That's right, I have SIX recipe boxes, crammed with delicious recipes! I inherited three of them from relatives. I cherish those not only for the recipes, but also for the hand-written notes and the peek into the past.
Both my hubby and I had a Great Aunt Rose. This recipe comes from his great aunt. I wasn't privy to the recipe until I married into the family, and I've used it every Thanksgiving since.
The dressing is sweet, but  I happen to love the combination of turkey with a sweeter dressing.
Ingredients and Directions
Note: ingredients are in bold type
2 quarts bread crumbs made as follows: remove crusts on approx. 15 slices of white bread; toast lightly (I place slices on a cookie sheet and broil on both sides until barely starting to brown). Cut into cubes and place in a large bowl
Gently stir on 1 cup sweetened condensed milk
Add and mix carefully in the order below:
1 1/3 cup seedless raisins, washed in warm water
2 1/2 cups unpeeled, diced apples (I like Granny Smith because this apple holds together so well)
1 medium onion, chopped and fried in butter until golden brown (I use ¼ cup butter)
2 Tbs sugar
½ tsp salt
¼ tsp pepper
Add:
½ tsp baking powder combined with ½ cup sweetened condensed milk
¼ cup warm melted butter
Makes a great stuffing in your turkey. If baked in a separate pan, pour some turkey basting juice in the bottom of the dish before adding the dressing. Cover with foil and bake slowly until raisins are cooked. I cook at 325 for approx 20-30 minutes.
Happy Eating!
Until next time,
Ann