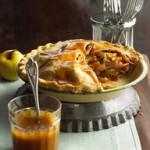 This is my all-time favorite apple pie. To make it, I combined the best parts of two recipes from two celebrated cooks– my mom and the Barefoot Contessa.
First, make the pie crust.
Ingredients :
• 2 cups flour
• 1 3/4 sticks unsalted butter, fresh from fridge and cut into chunks
• 1/4 cup Crisco solid shortening
• 1/4 tsp salt
• 4-6 Tbsp ice water
Use the metal blade of the food processor. Pour flour and salt into food processor, add butter and shortening. Pulse (process in short bursts) till crumbly and about the size of peas. Do not over-pulse. Add ice water, 1 Tbsp at a time, pulsing briefly after each addition. Continue adding water until mixture pulls away from sides and forms a ball. Do not add too much water or the dough will be tough. Dump onto wax paper, wrap, and refrigerate 30 minutes. While dough chills, begin making filling.
Ingredients for apple pie filling:
• 2 – 2 1/2 pounds Granny Smith apples, cored, peeled and quartered
• 1/2 pound Braeburn or Macintosh apples, cored, peeled and quartered
• 1 Tbs each lemon zest and orange zest
• 2 tsp freshly squeezed lemon juice
• 1 tsp freshly squeezed orange juice
• 1 cup sugar
• 1/4 cup all-purpose flour
• 1 tsp salt
• 3/4 tsp cinnamon
• 1/2 tsp nutmeg
• 1/8 tsp allspice
Place apples in a large mixing bowl. Sprinkle with zests and lemon and orange juices, gently stirring to coat the fruit. In a separate bowl, combine dry ingredients. Pour over apples and gently mix until apples are coated.
Preheat oven to 400 degrees. While oven heats, roll out crust to fit a 10-12-inch pie tin and top. (The standard 9-inch pan is a little too small, but if that's all you have, go for it anyway.) Place bottom crust in tin. Add apple filling; cover with top crust. Make several slits in top crust to vent the steam. Place on a cookie sheet. (This is a fat pie and may drip over, and the sheet prevents nasty oven cleanup later.) After 40 minutes, lower heat to 350 degrees, and bake an additional 30 minutes, until crust is browned and juices are bubbling. Serve hot or warm, with cream or ice cream.