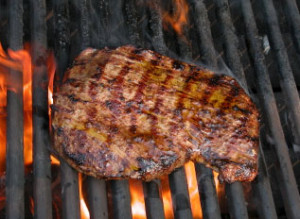 Teriyaki Flank Steak
It's time to fire up the barbeque grill.  But this favorite of mine tastes great even when broiled in the oven.  For the most flavorful results, marinate for 24 hours before cooking. You'll need at least one good piece of flank steak, but this recipe makes enough marinade for two. Trust me, it tastes so good you'll want to cook two. 🙂
Sauce:
1/4 cup soy sauce
3 Tbsp honey
3 Tbsp apple cider vinegar
1 1/2 tsp garlic powder
3/4 cup salad oil
1 finely chopped green onion
Mix in a 9 x 13 pan.
Score two flank steaks lightly with a knife.  Place in the sauce.  Turn over to coat both sides.  Cover with plastic wrap–otherwise, the sauce smells up the entire fridge. 😉 Refrigerate for 24 hours.  Turn several times so that both sides become thoroughly marinated.  (I usually start marinating in the early evening, then flip the meat over before I go to bed. Flip again in the morning, and  again a few hours before cooking.)
Toss the sauce and grill or broil five the meat minutes on each side, or until done enough to suit your tastes. If you're like me, you'll be drooling all the while.  Slice at an angle and serve.
Until Monday, and wishing you a weekend of happy eating,
Ann