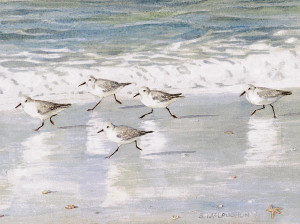 I am vacationing on Siesta Key, FL, and so enjoying myself. As always, the weather in May is perfect! Wonderful for early morning beach walks. As the tide comes in or flows out, sandpipers run across the wet sand in search of breakfast. Sometimes they move in groups. Other times, they work alone. Which got me to thinking about  writing. More specifically, writers.
What's she talking about? you're probably wondering.
Writing is a solitary business. (But never lonely!) We writers spend long hours, sitting in our offices, breathing life into the stories in our heads. This is often a daunting task, but very rewarding. Especially when we hear from readers. 🙂
But sometimes, we need to get out, hang with our peeps and talk shop. It's always great to share stuff about our own writing and the business of writing, a reminder that we are not alone, that there are others out there, doing what we do for similar reasons.
Time to get back to the ocean now.
Until Wednesday, and wishing you some serious fun with your peeps,
Ann