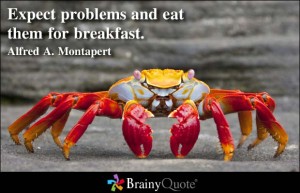 It's Monday, and what a great to way to kick off the week!
This quote is brought to you by Albert Montapert. This guy wrote book that came out in 1970, called The Supreme Philosophy of Man: The Laws of Life. I haven't read it, but I hear that it embraces basically the same philosophy of The Secret, and does it even better.
We all grapple with problems. I certainly encounter my share–every day, often multiple times. Some are small, like my current problem of the week: What colors should I paint the bedroom? (Trust me, figuring out an entirely new and different color scheme is a problem.) I'm narrowing that down now, but it's taking way more time than I ever imagined. Other problems are bigger, such as, I have no idea what  kind of book project I should focus on next, or, I can't get this stupid plot to come together! Then there are the truly ginormous problems, for example when a family member needs help and suddenly I need to be in two places at once, or someone I care about or want very much to please asks me to tackle some task that seems impossible.
That's why this particular picture and motivational saying speaks to me. It puts problems in a can-do perspective, and reminds me that if I put my mind to it, I have the power to solve/conquer/see any problem in a different way than I might think, and that I can solve it, or at least cut it down to size, and thrive from the challenge.
What a terrific angle in which to look at and tackle life's problems!
I'm ready to give this attitude adjustment a try. How about you? Join me in giving this "eat any problem for breakfast" attitude a try, and let's kick some serious butt this week and boot some of those problems right out of our life.
To share your thoughts about this, click on leave a reply.
Until Wednesday,
Ann