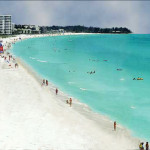 For the past two weeks, I've been here at Siesta Key. This gorgeous beach was voted the #1 most beautiful beach in America, and with good reason. I love so much  about this place–the  sun, being able to walk outside at night without grabbing for a sweater, the awesome wildlife, the food… and the beach and ocean.The sand here is made of crushed crystal and is the consistency of talcum powder. I've seen amazing birds, dolphins and all kinds of cool fish. Once a huge school of sardines filled the water. They formed perfect circles around we humans and swam on. Another time I saw a strange creature floating by. A biologist who happened to be in the water at the time said it was a mama squid with her egg sack. She was looking for a place to deposit her eggs.
This is turtle egg-laying season and by law,  the beach must be cleared of chairs before it gets dark. All buildings are instructed to turn off any lights on the ocean side so that the turtles won't get distracted. They swim to shore, then move over the sand, looking for the right place to bury their eggs. Turtle folks watch carefully and mark off the nests with yellow crime scene tape and "do not disturb–turtle nest" signs
During our two weeks here, I worked some and played a lot! The weather gods have been wonderfully cooperative. In the whole two weeks, only two days were muggy. The rest of the time, the weather has been perfect!  My hubby and I like to wallow–swim out a bit and  then do a little dog paddling while we bob up and down in the waves and enjoy whatever we find to watch–people included. Such a pleasant way to spend thirty minutes. Yesterday i came to an impasse in the story I'm writing. Could not figure out what to do, but a lengthy wallow fixed that. I was watching a couple pelicans fly overhead in search for an afternoon snack, and suddenly I thought of a way to fix the story. I love when that happens.
They say that the sign of a good vacation is being ready to go home. I am! I'm ready to write and write and write.
Thanks for letting me share.
I'll be back again soon.
Until next time…
Ann