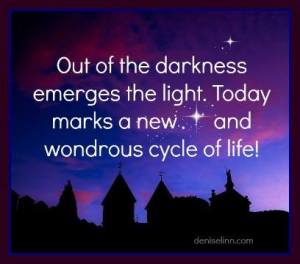 This year,  Winter Solstice, aka the shortest day of the year and the first day of winter, officially begins Sunday at 5:03 pm (not sure in which time zone).
At our house, well be ushering it in a day early, with a Winter Solstice party.  We do this to mark the return of longer days (which seem a little slow on the uptake, but they are coming).  I'm not exactly sure what year we started this tradition, but it's been happening for close to a decade now.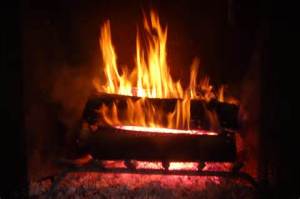 Friends and family join us for a festive evening of food, drink, laughter and conversation around a crackling fire in the living room. If the living room gets too crowded, and it often does, there are other places to congregate–around the laden dining room table or in the kitchen or the family room or a hallway.
Everyone seems to enjoy this brief break from the Christmas frenzy, and we love the chance to catch up with people we haven't seen in a while.
Thanks for letting me share one of our traditions, and take heart–the light is returning,
Ann
My Holiday Newsletter has gone out, but if you haven't signed up for my newsletter and you'd like a copy of the latest one, complete with a delicious recipe for chocolate mint brownies, contact me through my website at www.annroth.net  . I'll send you a copy.
Connect with me on Facebook:  https://www.facebook.com/AnnRothAuthorPage
Follow me on Twitter: https://twitter.com/ann_roth
Stop by my website: www.annroth.net
Sign up for my newsletter: http://bit.ly/1zgiKfG