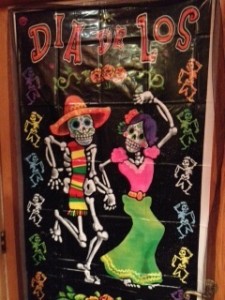 Over the weekend, I attended my first ever Day of the Dead party. What an interesting event! People decorated their faces and dressed in costumes commemorating the dead. Sounds macabre, doesn't it? But it wasn't. This holiday is all about remembering the dead with laughter and celebration. What better way to remember those who have passed away?
Arnie and Becca Moreno, the party hosts in their Day of the Dead makeup and costumes.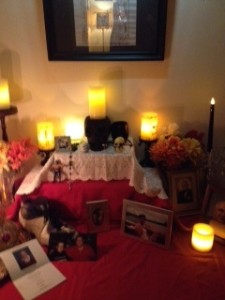 One of several shrines, commemorating loved ones who have departed this earth. Party attendees were invited to place photos of dead loved ones and/or beloved pets here.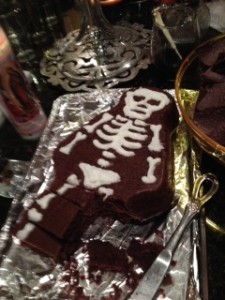 This Day of the Dead skeleton cake was one of many on the tables and tables of food and drink. Did I mention that this was a party of laughter and celebration?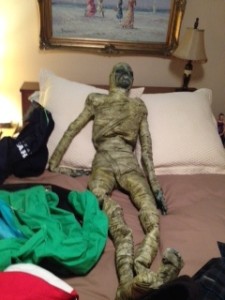 Just your friendly, everyday mummy, relaxing on the bed where we laid our coats!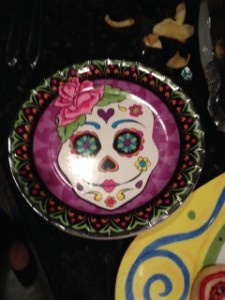 This fanciful Day of the Dead plate certainly caught my eye.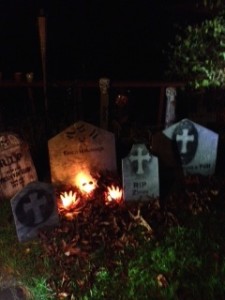 What Day of the Dead party would be complete without a backyard "cemetery"?
It's always good to try something new and different, and I thoroughly enjoyed this experience. Who knows- it must might end up in a future book. 🙂
Until next time, and wishing you new and interesting experiences,
Ann
Connect with me on my Facebook Author page https://www.facebook.com/AnnRothAuthorPage
Follow me on Twitter @Ann_Roth
Stop by my website: www.annroth.net