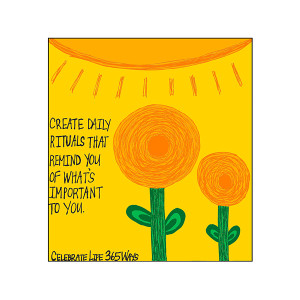 I don't know about you, but most of the time I tend to see the glass as half full. I see it as half empty only when circumstances are completely beyond my realm, those instances when I can't put a positive spin on something or figure out a way to change an outcome. Politics come to mind, but I don't even want to go there.
I have found that daily rituals help me to keep my glass on the full side. Some of my daily rituals are: exercising first thing in the morning. Eating a healthy breakfast. Drinking a satisfying cup of strong coffee with a shot of half and half. Reading a motivational or inspiration saying (I especially like the ones that appear my email inbox–here are two: http://www.queenofyourownlife.com, which is weekly, and www.tut.com). And then, sitting down and getting to work–writing.
Writing stories is my livelihood. I am blessed that this work is also my passion. It keeps me grounded, almost like meditation. When I am working, I forget my problems and the dizzying list of busywork that fills my brain. You know what I mean– errands, appointments, phone calls, bills. Stuff that keeps me running here, there, and back again. Blech.
Speaking of work, it's time to get back to it.
Until Friday, and wishing you nourishing rituals in your own life,
Ann
Visit me at my Facebook Author page https://www.facebook.com/AnnRothAuthorPage
Follow me on Twitter @Ann_Roth
Stop by my website: www.annroth.net