I love to bake in the fall and winter. The house always smells so good! This is a delicious, easy to make recipe that my family loves.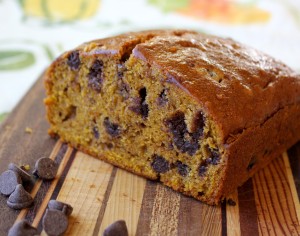 Pumpkin Chocolate Tea Bread
8 tablespoons (1 stick) butter
1 cup sugar
3 eggs, room temperature
1/2 teaspoon pure vanilla extract
1 cup pumpkin puree
1 3/4 cups all-purpose flour
3/4 teaspoon cinnamon
Heaping 1/4 teaspoon ginger
1/8 teaspoon each cloves and nutmeg
1 teaspoon baking soda
1 teaspoon baking powder
1/2 teaspoon fine sea salt
1 1/2 cup semi-sweet chocolate chips
Instructions
Preheat the oven to 350F. Butter and flour a 9×5″ loaf pan.
In a small saucepan, melt the butter, then whisk in the sugar, eggs, vanilla, and pumpkin.
In a separate bowl, whisk together all of the remaining ingredients, except for the chocolate, then stir them into the pumpkin mixture until just combined.
Stir in the chocolate chips.
Pour into the prepared pan. Bake in the center of the oven for about an hour, or until a toothpick tester comes out clean. (At this point, I'm busy, licking the pan. Because even the batter is yummy.) Cool for at least 10 minutes.
To remove the loaf from the pan, run an offset spatula around the edge, then invert it onto a cooling rack. Turn right side up and serve in thick slices.
Until Monday, and wishing you baking aromas that make your mouth water,
Ann
Visit me at my Facebook Author page https://www.facebook.com/AnnRothAuthorPage
Follow me on Twitter @Ann_Roth
Stop by my website: www.annroth.net