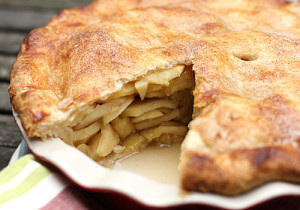 It's fall, and I've got a yen for pie. Not just any pie–apple pie. Several years ago, I tried the Barefoot Contessa's recipe for deep dish apple pie. After tweaking amounts and ingredients a bit, I can truly say without a doubt, that this is the best apple pie I've ever made or tasted.
The crust (makes top and bottom crust):
1/1/2 sticks chilled, unsalted  butter
3 cups unbleached flour
1 scant tsp salt
1 1/2 tsp sugar
1/3 cup cold shortening
approximately 8 Tbs ice water
Dice butter. Dump into the bowl of a food processor, along with flour, salt, sugar and shortening. Pulse until butter is the size of peas. With the food processor running, slowly pour in ice water until the dough begins to form a ball. Wrap in wax paper or plastic wrap and refrigerate 30 minutes.
While the dough chills, preheat the oven to 400 degrees and make filling.
Note: This is a large amount of filling, so be sure you have a large pie pan. Or just pile high like a mini-mountain. 🙂
The pie:
4 pounds apples (I use a mixture of Granny Smith, Honey Crisp and any other apples that look good), cored and sliced and peeled if you prefer. (I don't peel mine.)
1 Tbs lemon zest plus 2 tsp freshly squeezed lemon juice
1 Tbs orange zest plus 2 tsp freshly squeezed orange juice
1 cup sugar
1/4 cup unbleached flour
1 tsp salt
1/2 tsp nutmeg
1/8 tsp allspice
Roll out half the pie dough and fit into the pie tin so that about a half inch of dough extends over the rim. Save the other half for the top. In a large bowl, combine apples, flour, sugar, salt and spices. Pour carefully into prepared pie tin. Place top crust over the apples, again with extra dough extending over the edge. With your fingers, crimp the crusts together. Slit the top dough in several places to allow steam to escape. Bake at 400 for approximately 40 minutes, then without opening the oven, lower heat to 350. Bake for 30 minutes more, until crust is browned and the juices are bubbling out. Serve warm or cold with ice cream if desired.
I am drooling now :-), so please excuse me while I run to the store for the ingredients and make this myself…
Until Monday, and wishing you good pie,
Ann
Connect with me on my Facebook Author page https://www.facebook.com/AnnRothAuthorPage
Follow me on Twitter @Ann_Roth
Stop by my website: www.annroth.net