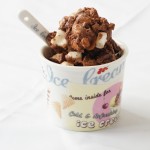 Summertime is ice cream season. This yummy concoction came from my local newspaper. It's easy to make–you don't need an ice cream maker or any fancy gadgets. Warning: It's rich as sin. 🙂
Note: This recipe requires overnight freezing , so plan to make it a day in advance.
Rocky Road Ice Cream
serves 8-10
1 can (14-oz) sweetened, condensed milk
1/2 cup chocolate syrup (I use the expensive stuff that comes in a glass jar, but any kind will do)
2 cups heavy cream
1 cup mini-marshmallows
12 cup mini chocolate chips
1/2 cup salted peanuts
Mix sweetened, condensed milk and chocolate syrup. Whip the heavy cream to stiff peaks. Fold into the chocolate mixture. Add marshmallows, chocolate chips, and peanuts. Freeze overnight. Store in an airtight container. Will keep up to two weeks–but I'm betting it won't last that long. 🙂
Until next time,
Ann
Comments welcome!