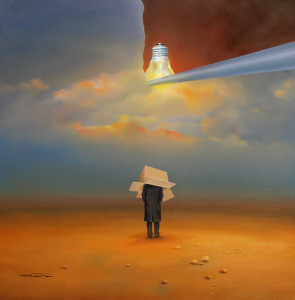 It's Monday, and my efforts to think outside the box continue. Over the next few weeks or months, I plan to alternate between multiple projects: the workshop I'll be presenting in San Antonio at the annual Romance Writers of America conference in July, a women's fiction novel already completed but in need of editing, a short story and a novella to go with the women's fiction, and new stories for my Prosperity, Montana miniseries.
The first two projects are complete and awaiting revisions. Rather than simply reworking the material, I'm going to dig deeper. I'll turn the conference workshop on its head and make it fresh and fun. As for the women's fiction novel, anything goes! My three heroines are going to venture into places from which I've held them back. I can't wait to see what unfolds.
These changes won't come easily. They'll take time and work, and I expected to be challenged and stretched considerably. I'm open to that. In fact, I'm excited to see where thinking outside the box takes me.
And those new stories for the Prosperity miniseries? Even now, they're forming in my subconscious, gaining enough heft to pique my curiosity. When the time is right, I have no doubt that they'll hop over to my conscious mind.
How are you planning to think outside the box, or are you happy with your current way of thinking?
Remember, your comment automatically enters you in a monthly drawing for a free, autographed copy of an Ann Roth book!
Until Wednesday,
Ann