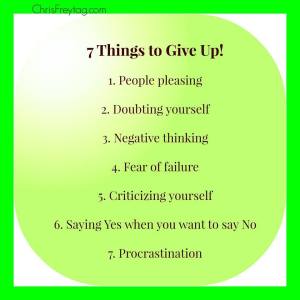 As we move at warp speed toward a new year, think about these things. You don't need them! In fact, they are your worst enemies.
Imagine what your life would be if you stopped trying to please others over yourself. Pushed through those self-doubts and did it anyway. Replaced negative thoughts with positive ones. Embraced the possibility of failure as a learning tool rather than a source of fear. Praised yourself instead of criticized. Said "no" when you didn't want to do something asked of you. Acted now instead of procrastinating until the last minute.
If there's a map for reaching your highest potential, this list is a good place to start. It my seem daunting, so start with one or two.
I'm pulling for you!
Until next time,
Ann
Connect with me on Facebook:  https://www.facebook.com/AnnRothAuthorPage
Follow me on Twitter: https://twitter.com/ann_roth
Stop by my website: www.annroth.net
Sign up for my newsletter: http://bit.ly/1zgiKfG