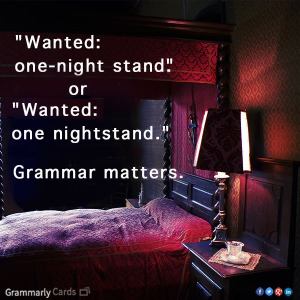 Just thought I'd share this with you.
One of my pet peeves: bad grammar. Not that we writers don't break the rules sometimes. After all, we have to be true to our characters. That means letting them speak and think in ways natural to them. Like most of us, characters, too, use less-than-correct grammar on a daily basis.
There are times when oral grammar bugs me, too.  Examples that come to mind: "Me and him went to the store." "Her and I talked on the phone."
Back to the written word.  When I read a letter or email, an article in a paper or magazine, or one of those badly written self-published books, and the grammar is off… I forget the message and instead, focus on the mistakes. I am sure this is not what the writer intends.
So please, folks, correct your grammar. If you don't know grammar, take a course. There are many out there. Or look on line for help. Also check your spelling and watch for typos, and make this particular, fussy writer happy.
Thanks for letting me vent. Climbing down from my high horse now…
Until next time,
Ann
Connect with me on Facebook:  https://www.facebook.com/AnnRothAuthorPage
Follow me on Twitter: https://twitter.com/ann_roth
Stop by my website: www.annroth.net
Sign up for my newsletter: http://bit.ly/1zgiKfG