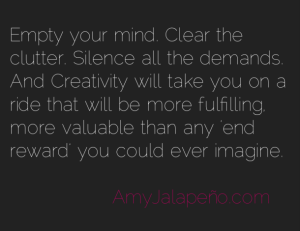 I don't know that I agree with this. There are articles in support of clutter and creativity, and articles touting neat and clean in order to be creative. My opinion lies somewhere in the middle.
I don't mind a little clutter, because let's face it, life is messy. But too much stuff and mess weights me down and saps my energy. Cleaning isn't exactly my favorite task, but a good cleaning and either giving away or tossing out "stuff" that has piled up  always energizes me.
Yet despite my feelings about too much clutter, when I'm in the middle of a writing project, watch out! In no time, my office fills with hastily scribbled notes from those times when I'm away from the computer and inspiration strikes, and other papers that seem to multiply all by themselves.  My writing space slowly fills with paper and research materials, to the point that I would never invite anyone inside. Ugh, I hate that–but as it happens time and again, I've come to accept it as a part of my writing process.
But when I finish a project… This is when I toss most of those papers and file away the rest. Ah. Then I can move on and start something new.
Until Friday, and wishing you a life that is minimally bogged down in clutter,
Ann
Visit me at my Facebook Author page https://www.facebook.com/AnnRothAuthorPage
Follow me on Twitter @Ann_Roth
Stop by my website: www.annroth.net